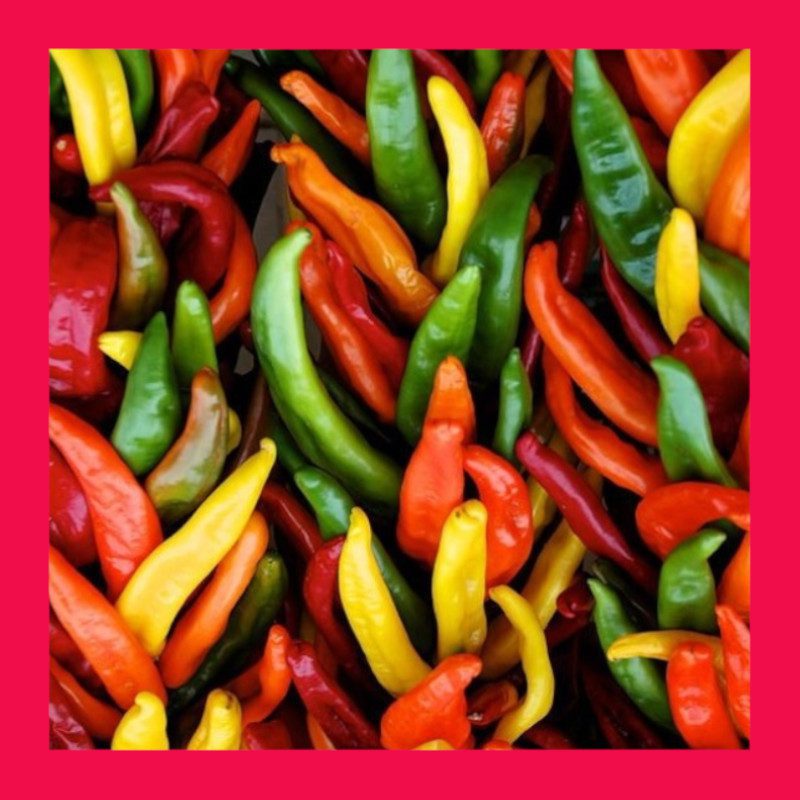 CHILLI-CAYENNE MIX
$3.50
SEEDS PER PACK: 15
Capsicum annuum
CHILLI-CAYENNE MIX are multicoloured thin chillies that are roughly 7cm long originating from Cayenne, French Guiana in South America.
Red ones are often dried, ground and sold as cayenne pepper. Heat and flavour varies depending on when they were picked and what colour they were when picked.   From the same family as Jalapenos (Solanaceae) they are 10 times hotter than Jalapenos.
Suitable for drying, freezing or bottling in oil.  Eat chopped or diced with soups, casseroles, salsa, Mexican dishes and more.
They need a warm to hot climate to grow, but not too hot or cold, therefore good for temperate and tropical climates.  If night time temps are above 23C or below 15 C  your chilli's will suffer.   In cooler climates you need to start them indoors and plant out when soil temperature is warm enough.
Use slightly acidic soil that is well drained, with added compost and water well but do not overwater.  Grow in a nice sunny position, keep weeds at bay with a mulch covering but not one that in rich in Nitrogen such as grass clippings, or you chilli's might not fruit.
Generally easy to grow and save seeds.
| | |
| --- | --- |
| Germination Time (Days) | 8 to 21 |
| Harvest Time (Days) | 70 to 100 |
| Sowing Depth (mm) | 5 |
| Plant Spacing (cm) | 45 - 60 |
| Row spacing (cm) | 100 |
| Soil Temperature (°C) | 22 to 25 |
| Temperature Range (°C) | 22 to 35 |
| pH | 6.1 - 6.5 |
| Soil | Well Drained |
| Frost Hardy / Tender | Frost Tender |
| Annual / Perennial / Biennial | Perennial / Annual in cool climates |
| Sow Direct / Raise Seedlings | Either |
| Seed Preparation | Freeze before planting or soak overnight |
| Full Sun / Part Sun / Shade | Full Sun |
| Season of Interest | Spring after last frost. Warm climates - anytime. |
| Watering | keep soil wet but don't overwater |
| Good Companion Plants | Onions. Leeks. Garlic. Chives. Scallions. Shallots. |
| Bad Companion Plants | Fennel, Kohlrabi, Peas, Beans, Beetroot, Fruit Trees |
| Diseases | Aphids, Leaf Blight, Mites, Slugs, Thrips, Root Rot Nematodes |
| Scoville Heat Units (SHU) | 30,000 to 50,000 |
| Plant Height (cm) | 60 |